Pandemic or no pandemic, everyone at Bailiffe Bridge School is always approachable and I have always felt that this educational setting is the perfect place for my children to grow and be safe. Thank you all! - Parent
COVID-19 Latest Guidance - January 2022
COVID-19 guidance continues to change at a rapid rate. The latest guidance from Calderdale Public Health can be found here.
From 17th January, people who have tested positive can end their isolation after 5 full days if they return negative LFT results on two consecutive days from Day 5 and 6 and if they do not have a temperature or feel unwell. They can then return to school on the day of the second negative test - Day 6 at the earliest.
People who continue to test positive can end their isolation when they receive two negative tests on consecutive days after Day 5. They can return to the setting on Day 11, even if still testing positive.
If a household member tests positive, local guidance is for children to stay at home until their Day 1-3 LFTs have returned negative results, then return to school but continue testing until Day 7. Anyone who develops symptoms should seek a PCR test and not rely on LFTs.
Christmas Presents for Wyke Food Bank
Our school council (CHIC Club - Children Helping In the Community) launched an appeal to parents for donations of new or nearly new toys that could be donated to the local food bank as Christmas presents for families in need. Once again, we have been overwhelmed by the response of our school community. Thank you for your kindness in thinking of others at this special time of year.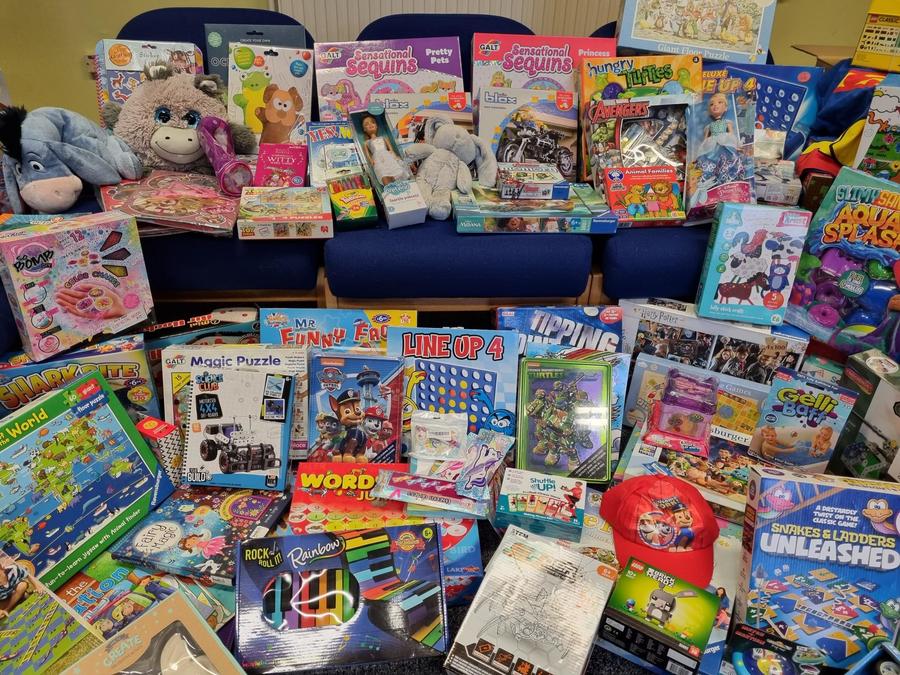 Remembrance Day 2021
On 11th November, we took time to reflect on the significance of Armistice Day. Each class shared in our Remembrance Assembly, created for us by our Vice Chair of Governors and good friend, Rev Jane and two minutes silence was marked at 11.00am.
Food Bank Collection - July 2021
After the generous response to our food bank collection in December, staff decided to ask parents if they would support Wyke Food Bank once again. At the end of an academic year, it has become tradition for parents to buy gifts for staff. This year, we asked if instead parents would donate to the food bank in lieu of these gifts. Once again our wonderful community rose to the challenge and an impressive collection of food and toiletries was collected.
However, the story doesn't end there! Hearing about this initiative, parent and local businessman, David Dickinson, saw an opportunity to use his contacts in the community to further fund raise for this worthy cause. David asked for donations from a range of companies* and, before long, he had raised over £1,000. He then went shopping along with his two children, Emmie and Gabriel and together they bought enough shopping to fill his works van twice over!
The collective donation was transported to the food bank on Tuesday 20th July and the staff there were totally overwhelmed! Through their tears, one of the volunteers told us that this huge donation was an answer to their prayers; very few donations had been made over the last few weeks and the shelves were starting to empty - until we arrived!
A huge and heartfelt THANK YOU must be said to our wonderful community, the selflessness of David and his family and all the local companies who have supported us in easing some of the pressure on so many families in our local area during such a difficult time.
* The companies who donated are:
Bailiff Bridge UPVC, City Glass Works, No Shut Sure Lock, Right Green Recycle, A&G Wainwright, Firebelly Stoves, Nigel Wood Bradford Bulls, Spicey Cottage Curry Wibsey, Ramsons Barbers Wibsey, Tom Wilde Bradley Park Pro, Cleckheaton Motor Sales, Newlook PVC Supplies, Tom Wyke Lion, J F Property Maintenance, Collinsons Plumbing & Heating, Mitchells Printers Ltd and Briggs Signs & Graphics, Wibsey.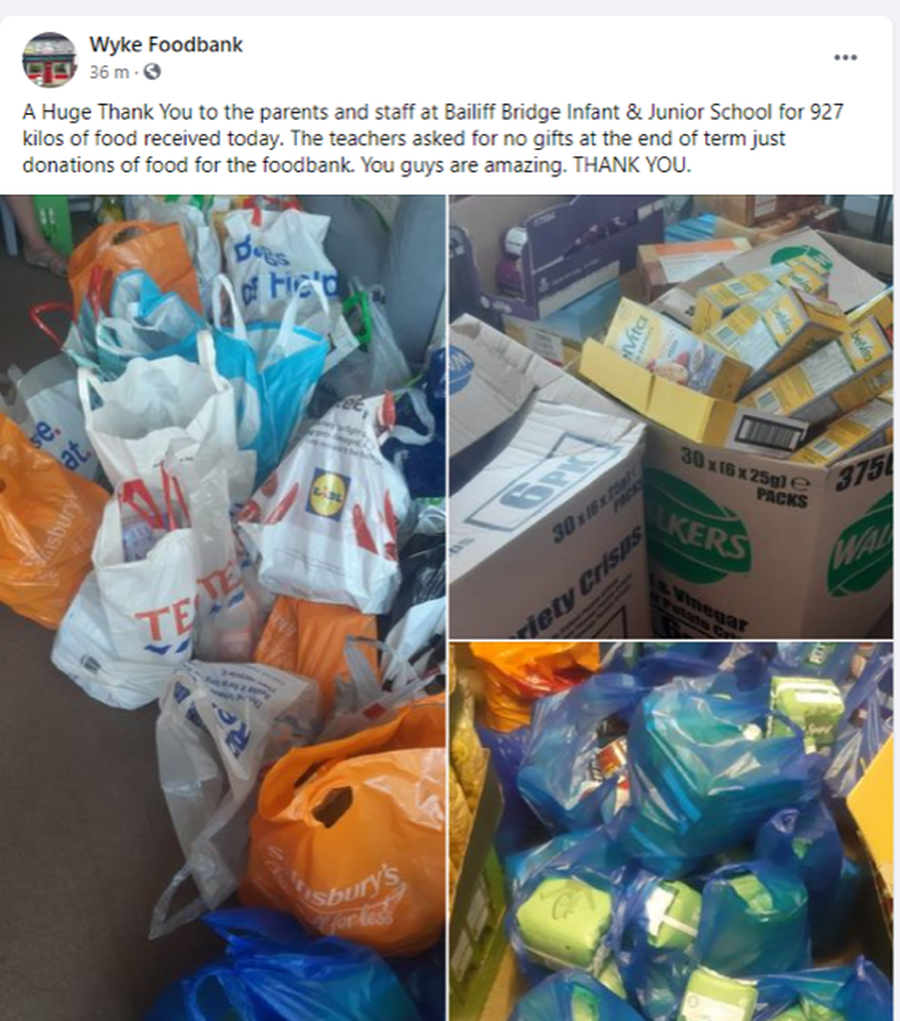 RSE Day - Monday 28th June 2021
We celebrated RSE day (Relationships & Sex Education) on Monday 28th June. This year's theme was 'faces' so we decided to show and celebrate the diverse faces of families within our school community. We also wanted to show how families play a huge role in how we form positive and healthy relationships. On coloured hearts, children drew members of their family and chose adjectives to describe their relationships eg: kindness, honesty, respect. These were then tied to the railings at the front of school to provide a display for all our families to see.
Staying active through the pandemic
It has been very difficult for our children to keep active throughout the last 12 months but Healthy Futures Calderdale have devised a range of strategies to support this. Keeping active has a range of benefits that can have a significant impact on both physical and mental wellbeing. Please see these documents for more information.
Mental Health Awareness - Wear Yellow: Be Happy 21st May 2021
On 21st May we held a non-uniform day to mark the end of Mental Health Awareness Week in school. Everyone paid £1 to wear yellow and all donations were given Turning Point Counselling Service in Brighouse. During the week, we completed a range of mindfulness activities, revisited why it is so important to look after ourselves both mentally and physically and designed stamps of our Covid heroes for a Royal Mail competition. Most importantly, we had some fun!
National Day of Reflection - Tuesday 23rd March 2021
The Marie Curie 'National Day of Reflection' marked 1 year since the first national lockdown due to the Coronavirus pandemic. As a school we have reflected on the events of the last 12 months; thinking of those who have lost their lives and their loved ones, the impact of lockdown on our own lives and the inspiration of people who have helped each other through these difficult times. Our focus for the day was one of HOPE - as Captain Tom Moore said ' Tomorrow will be a good day!'
Each class completed their own activities. Reception and Year 1 created flower pictures to display on their classroom windows, Class 2 created more complex flowers pictures and used words of 'hope' to make a poster, Class 3 made 3-d daffodils, Class 4 planted a variety of yellow flowers around a tree at the edge of the field and Classes 5 & 6 thought about the inspiration of Captain Tom Moore, who gave the nation hope during these challenging times and raised millions of pounds for the NHS in doing so.
Take a look at our photographs to see what we did.
Keeping your child safe online
While working online (including remote learning), it is more important than ever that children are keeping safe online. Please visit the Think you know website for a range of ideas and activities about online safety.
Information for parents
Please use these links to help you to help your child keep safe online.
Talking about cunning people online
ChatHealth
ChatHealth is an NHS approved secure and confidential text messaging service. To access ChatHealth - Text 07480 635297 (young people) or 07507 332157 (parents/carers)
From 9.00am to 5.00pm Monday - Friday, there are experienced clinicians waiting to help. Messages outside this time frame will receive an automated response letting you know when you will receive a reply, and who to contact for immediate help. Texts cost the same as a standard text.
Healthy Futures Calderdale specialist teams can support families with things like: sleep, bullying, healthy eating, allergies, continence, safeguarding, sexual health, behavioural problems, emotional wellbeing, relationships, drugs and alcohol, bereavement, puberty/growing up, complex health needs and body worries. They can also signpost or refer onto other services.
Clinicians can also be contacted on 0303 330 9974.