News
Sports Day - June 2021
Sports day in our bubbles was a great success and it was fantastic to see a wide range of skills on show from our children. Everyone thoroughly enjoyed themselves and it was a pleasure to hear so many shouts of support for classmates, whether they won a race or not.
Well done to those children who were placed in an event achieving points for their house team. We are happy to announce that BRANXHOLME (green) was the winning team this year. Enjoy the photographs below! Here's hoping that Sports Day 2022 will be celebrated with our whole school community once again.
Collection for Wyke Food Bank
Our Christmas collection for Wyke Food Bank received an incredible response from our whole community. Rev Jane's car was packed to the gunnels with lots of gifts and Christmas treats that had been donated by our families. Thank you so much (once again) for your amazing support!
Virtual Tour of Reception Class
To support our families in preparing for their transition into school life, we are delighted to share our virtual tour of Reception Class with you.
Mrs Gatehouse - A Volunteer for 20 years!
Mrs Gatehouse has been a great volunteer and loyal friend of Bailiffe Bridge School for 20 years now. She started reading with Classes 5 and 6 in 1999 and still reads with them on Monday and Tuesday afternoons each week. On 9th July, we had a special assembly to celebrate 20 fantastic years with Mrs Gatehouse.
Every school should have a Mrs Gatehouse. Here's to the next 20 years!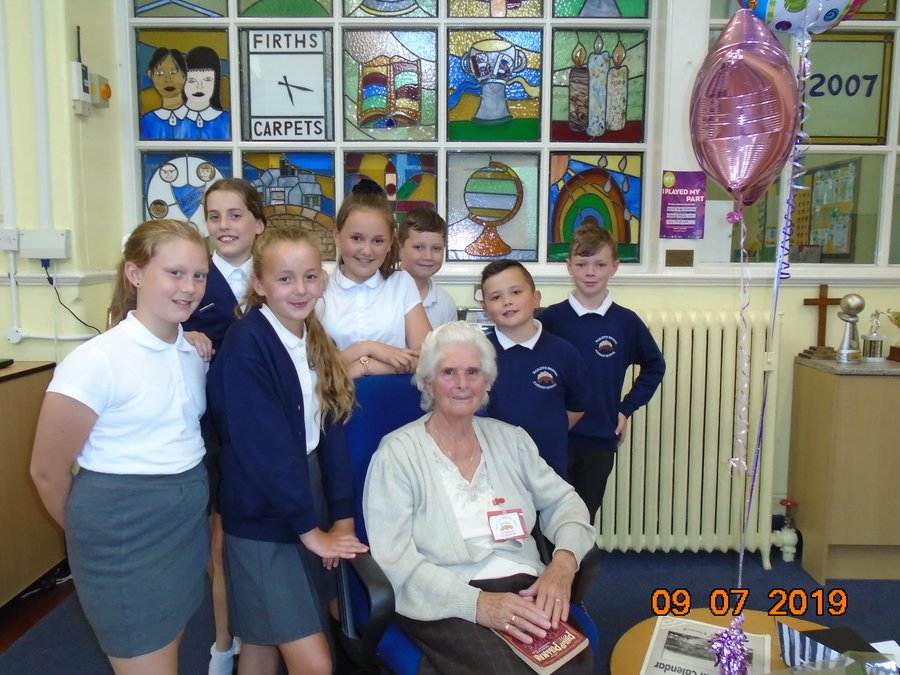 Arts Week
During the last two weeks in May, we held our annual Arts Week event. The theme this year was 'Cultural Diversity' and children from Reception to Year 5 completed work from a range of different cultures. This work culminated in an Art exhibition held on Wednesday 22nd May in our school hall. Art Exhibition Programme
Sponsored Zumba for the NSPCC
On 4th October we held a sponsored zumba event to raise money for the work of the NSPCC. All children and staff had to participate in non-stop zumba activities for 20-30 minutes. Everyone enjoyed themselves and we proudly donated a massive £938 to the NSPCC as a result. Well done everyone!